Step-by-step instructions on how to play poker online.
Figure out How to Play Poker game EASILY! What are the different Poker Hands, as well as Poker Rules and Strategies to WIN REAL MONEY!
Even better, we'll attach you with EMPIRE777's RM30 Free Credit so you can play Poker Online for Free, No Deposit Needed!
What is Poker?
Poker is one of the most popular casino games that use the standard deck of cards. Online Poker is a gambling game that involves some luck, but also some skill.
To play a game of online poker, players make bets or wagers against each other depending on the value of their poker hand!
Learn How to Play Online Poker
We'll teach you how to play the most famous Poker variant, Texas hold'em. It's typically the version played in Traditional and Online Casinos.
3 Easy Steps on How To Play Texas Hold'em Poker:
1. Every Player at the table is given or dealt 2 cards face down.
These 2 cards are called Hole Cards.
Remember that online poker games have a lot of terms, like to Hole Cards, Community Cards, Poker Hand and Pot. Good thing, we have an online Poker Dictionary for all the gaming terms down below!
2. Dealer will deal the 5 Community Cards.
COMMUNITY CARDS – are the 5 cards dealt face up in the center of the table and shared by all players.
The objective is to make the best Poker hand using all the cards available to the players: this includes both the Community Cards and their 2 Hole Cards!
HAND –  the 5 cards held in a game of poker
They can choose to use their 2 hole cards, or just 1 or none to make the best Poker hand combination using the Community Cards.
3. Player to Dealer's Left can either Bet or Check
BET– wager an amount
CHECK – Checking is what one does if they wish to pass the action to the next player
How to Know Whether to Bet or Check:
Based on your cards, see if it's worth betting or check
4. If Any of the Players Decide to Bet, the Other Players can Fold, Call, or Raise
CALL – Calling is the mechanism used to call a bet. This is essentially matching the amount that has been put in by another player in the form of a bet or a raise
FOLD – The act of accepting defeat and gives up their cards and all the chips/bet/money they already put into the Pot
RAISE – Is the action one takes when they want to increase the opening bet.
5.This goes on until all Players have Either Called or All Poker Chips are in the middle of the Table
There are also Betting Rounds for every game of Texas Hold'em. They're called:
Pre-flop – The 1st betting round
The Flop – after 1st round of betting is complete, dealer gives 3 cards face up
The Turn – after 2nd round of betting, dealer puts 4th community card face up
The River – after 3rd Round of betting, 5th and final community card is dealt face up
6. Player with the Best Hand wins the Pot!
If more than 1 player is still left after the final betting round, all cards are shown and the player with the best Poker Hand wins the entire pot!
So now you're probably thinking, how would you make the "Best Hand"?
Other Texas Hold'em Terms:
BLINDS – are mandatory bets that 2 players on the direct left of the dealer (Small Blind & Big Blind) are forced to put in the pot before every round starts.
Poker Hands Ranking
To win a Game of Online Poker, understanding hand rankings is your first step. Player must have the Highest Hand Ranking out of all the other players.
1. Royal Flush
Highest Ranking Hand
10 to Ace Sequence in Same Suit
Ex: 10, J, Q, K, A in same Diamond Suit
2. Straight Flush
Second Highest in Poker Hand Ranking
Five-card sequence with the Same Suit
Ex: 5, 6, 7, 8, 9 with Clover Suit
3. Four of a Kind
Four Cards of the Same Value
1 Card with any Value
Ex: 4 King's, one 2 Spade
4. Full House
3 of a Kind + 1 Pair
Ex: 3 8's, Pair of Kings
5. Flush
Any 5 cards of the same suit, but not in sequence
Ex: 4, 5, 9, 10, A in same Heart Suit
6. Straight
5 cards in sequence with mixed suits
Against other Straight Hands, the one with the highest card is the winner
Ex: 10, J, Q, K, A sequence with different suits
7. Three of a Kind
3 cards with same rank/value
Ex: 3 8's, one Ace Spade and one 10 of Hearts
8. Two Pair
2 sets of equal value pairs
Ex: 2 King's, 2 Ace's
9. Pair
2 cards of equal rank/value = 1 Pair
Ex: 2 Ace's
10. High Card
No other combinations
Ex: Value depends on the highest card
Poker Card Rankings
Highest Value to Lowest Value
A > K > Q > J > 10 > 9 > 8 > 7 > 6 > 5 > 4 > 3 > 2
The highest value is the Ace, followed by the Face Cards (King, Queen, Jack). Then it's 10 all the way down to 2 (card with lowest value).
Where to Play Poker Online?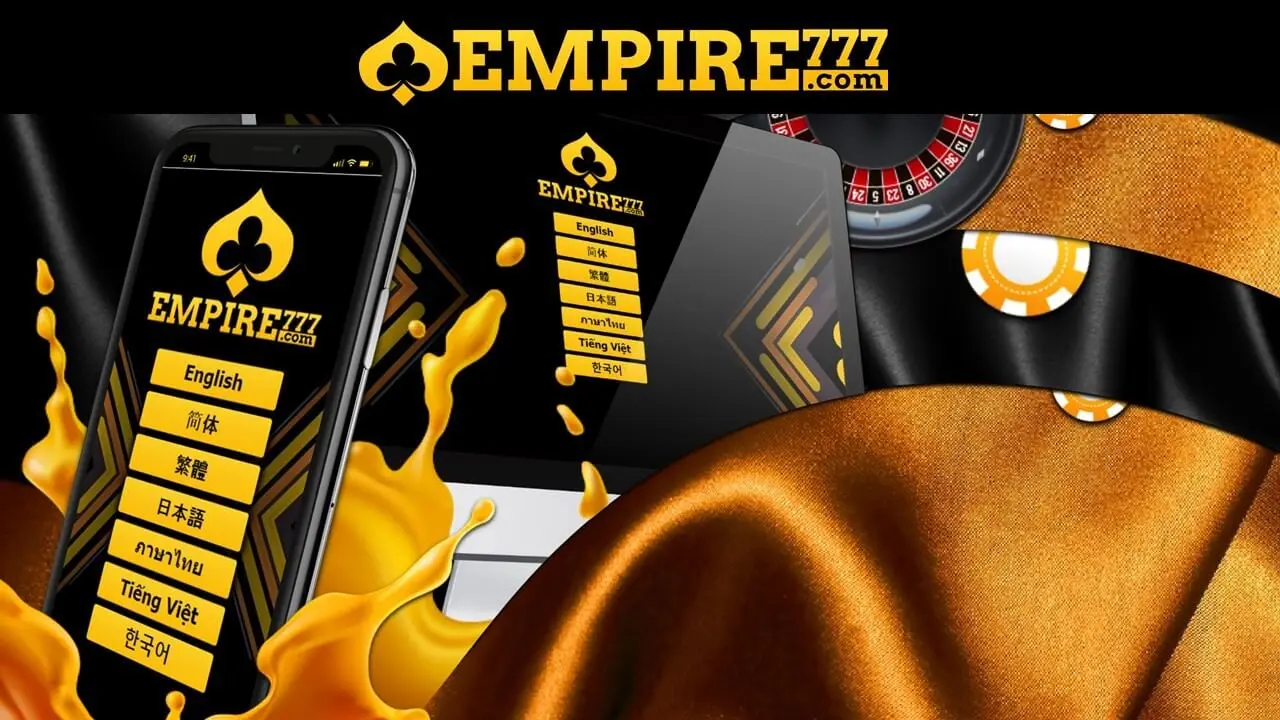 If you're a Malaysian gambler, you won't always have the chance to play in Genting Highland or Resort World Genting. Poker Online is now within reach thanks to EMPIRE777 Casino Malaysia!
These days, lots of Malaysian Poker Online players are trying to hack game application like Zynga Poker. But, you can't win real money with Zynga Poker, unlike Poker Online Casino Games!
Trusted Online Casino Malaysia EMPIRE777
✓ No need to download any application, you can play in your mobile phone browser!
✓ RM30 Free Credit No Deposit Malaysia, 100% Welcome Bonus, 60 Free Spins & More!
✓ Over 1000+ Slot Games, Table Games and Live Casino
How to Win Poker Online: Poker Strategy & Tips
Basic Tips for Online Poker Players
Don't play too many Hands
Playing more doesn't always mean you'll get more chances of winning. Play only if you know you have a good chance of winning based on your hole cards.
You Have Good Hands if Your Hole Cards are:
9-9, T-T, J-J, Q-Q, K-K, A-A and A-J, A-Q and A-K.
Don't Call Too Much
Calling too much is a mistake often done by new players because they just don't know whether they have good cards or not.
Whatever your cards are, try to Bet More than Calling. You can still win the pot by betting, but you can't if you keep on calling.
Sometimes it's best to take the risk and actually see how your hand unfolds.
Advanced Tips for Poker Players
Different Styles of Betting
Tight – careful kind of betting; play a small number of only the best hands.
Loose – going on all out; playing a wide variety of hands with risky bets
Aggressive – making lots of big bets to put pressure into other players and not afraid to put chip at risk
Passive – making more calls than bets; you let other players decide how the game will go
Taking Advantage of Your Position at the Table
In Texas Hold'em, all players get to exprience the role of Dealer or "Button".
They're also the ones who get to bet last, and this is a good advantage because you'll see how other players behave or act before you can make your move.
Play more hands when you're in the 'later' position (when you get to bet last) than in the early ones.
Use your Bluffs Wisely
Bluffs can be powerful, but only if they're used right. The point of bluffing is that you want your opponent to fold or give up their best hand, tricking them into thinking they don't stand a chance against yours.
Make sure that you can achieve this, because if not, then there's no point to your strategy.
Why Poker is so Famous?
It can be said that Poker is one of the most well known casino games in the world. Although it's most popular in the US, almost all Asian countries have their own variation of Poker. An example of this is "Big 2", which is a kind of Chinese Poker.
✓ Yearly Poker Tournaments and World Competitions
✓ Player can fold or call any time
✓ It needs skill and intelligence, not just luck
✓ Players need understanding of psychology and people's behaviors
✓ Can have only 2 players or as many as 10 players
✓ "Bluffing" is entertaining to watch
What are you waiting for?